PASMAN Rudolf
Rudolf PASMAN was van Mörs. Hy trou 12 November 1684 met Sophia Schalk VAN DER MERWE. Sy was die oudste kind van die van der Merwe stamouers, sy was gedoop Kaapstad 1 Nov 1670.
Rudolph se plaas was Rustenburg, aan die Stellenbosch-kant van Simonsberg. Toegesê in 1680, maar eers in 1699 toegeken aan sy wed. se tweede man. Dit is eers in 1742 uit Sophia van der Merwe se boedel oorgedra aan hul kleinseun Pieter Loubser.
KINDERS
b1 Margaretha gedoop 19 Aug 1689, X Claas ELBERTSZ - beide sterwe in die pokke epidemie van 1713 van Onverwacht (Hottentots Holland)
b2 Catharina gedoop 17 Aug 1691, X 17 Sep 1713 Philip MORKEL
b3 Sibella gedoop 19 Aug 1693, X 1714 Johannes Albertus LOUBSTER, XX 1722 Jacob CLOETE van Nooitgedacht (Stellenbosch)
b4 Roelofje
Op 30 Junie 1681 was hy skuldig bevind van sluikhandel. Rudolf Pasman en De Vos het 'n vennootskap gehad. Hy het ook gedien as diaken in 1694 en 1695. Rudolf is ewe skielik in 1696 oorlede. Sophia trou op 25 Januarie 1696 met Pieter ROBBERTS
Roelof (sic) PASMAN se plaas is aangedui op 'n redelik bekende kaart van die Weskaap. Dit verskyn ook as 'n inset inset van Visscher se kaart van 1710 en in Toohey se "Maps of the African Continent and South Africa" lyk dit asof dit ook voorkom in Pierre van der Aa se kaart 1713.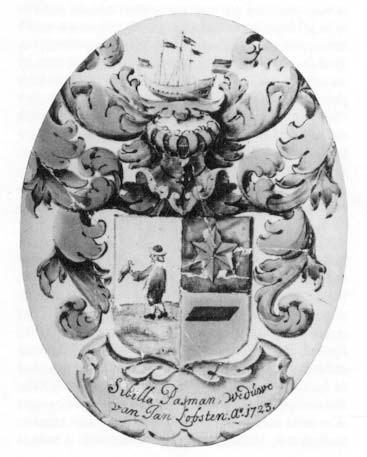 Stained glass window of daughter Sibella Pasman
which use to be in the earlier Stellenbosch Church
There was also a stained glass window for her sister Catharina's husband Philip Morkel. This is featured on this web page under Philip Morkel.
Bronne:
GC de Wet, Vryliede en Vryswartes in die Kaapse Nedersetting 1657 - 1707
Inligting gekry van GenForum ingestuur deur André Morkel
Inligting van Jean le Roux op GenForum
Stellenbosch Three Centuries
Saamgestel deur: